Our Services
PHOTOStoDVD specialise in transferring your photographs, slides and videos to DVD or USB Flash Drive.
Alternatively we can provide you with a video file format that can be stored on a Hard Drive or your computer for storage or further editing.
We can also create a PhotoBook or Calendar from your favourite photos or convert your old music cassettes and LPs to digital mp3 format.
Provide us with your Photo Albums and we will scan all those reminders of your precious memories so that you can watch them on your TV or computer. No need to remove them all from the albums.
However, our most common request by far is our Photomontage which is ideal for Mum and Dad's Golden Anniversary or your daughter's 21st birthday.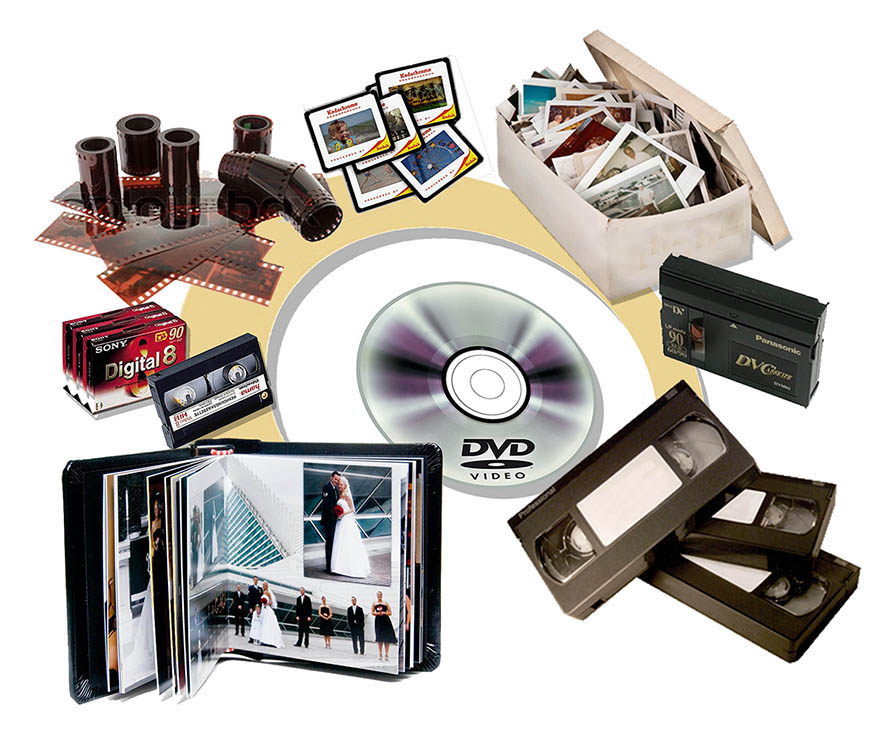 We offer a fast and affordable service for converting your old original photos to scanned images so you can keep them on your computer along with all of your existing digital shots.

Your photographs and videos are important to you and your family and there's no better way to protect, share and enjoy them than to convert them to digital format.
The digitized videos are available as:
standard DVD format playable on laptops/PCs/TV or
mp4, AVI or Quicktime format which can be stored on your hard drive or USB memory stick and edited on software such as Microsoft Movie maker or iMovie
Digital is forever. An investment in digitizing your photos, slides or videos is money well spent not only for the peace of mind it can provide but for the many new uses you'll discover for those old photos and the new smiles you'll create by sharing and enjoying your memories in a more contemporary way.

We also convert PowerPoint presentations to DVD.

Click here for information about prices.