Photograph Manipulation and Restoration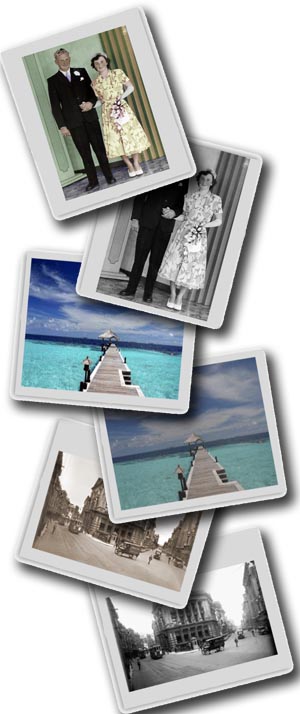 Do you have photos that need to be retouched? restored? coloured? Or if you have an old photographic print that is damaged or you want a copy we can help.
Some of the things we can do:
Repair scratches, creases and tears
Remove marks and blemishes
Piece back together torn photographs
Recreate missing sections
Revive the colour in faded photographs
Create a montage of your favourite photographs
Colour tint black and white photographs
Enhanced photographs can be printed to any size up to A4 or supplied in a CD
We can restore damaged photographs, remove blemishes, colour in old black and white photos, enlarge, copy and even create montages of your treasured memories.
By capturing your photo electronically the digital copy can be enhanced & manipulated by one of our restoration artists using specialist computer software. The original photograph is not altered and returned in its original condition.
Our digital colouring service can be used to hand tint your old black and white photos.
The restored photograph is printed at the required size along with any extra copies or enlargements requested.
We can also archive the finished job to CD-ROM so you will always have a digital copy. Your treasured photograph is now safe for many years to come.
The cost to restore your photo will depend on the condition it is in, the amount of damage and the level of detail in the damaged areas.
Examples of Photographic Enhancement and Restoration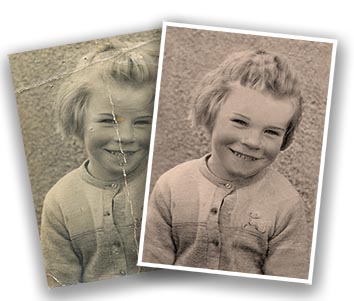 Levels of Photograph Enhancement
We offer two types of Photo Enhancement
- Basic and Full.
These samples will give you an idea of the difference in the results achieved. Please be patient as it may take a little time to fully load the page.